Acquire strategic accounts
We define strategic accounts as accounts that can spend at least $1 million per year with Devbridge.
At that spend level we're able to allocate a full team for a full year to the client, thus reducing the management overhead and allowing us to focus on complex problems with minimal churn. The team is given plenty of opportunity to learn the domain and ship really great software.
Our strategic accounts have typically been mid-market and Fortune companies. These organizations take technology seriously and have the budget to spend millions of dollars on bespoke software annually. For example, one of our commercial banking clients has a $100 million annual budget for purchasing services. At the peak of our relationship, we had a consistent pipeline of work and an annual spend of $6 million.
Limiting our targets
Why not go after every business in the sector? Imagine you're generating a hundred leads a month from both inbound and outbound activities. Each lead needs to be tracked, called on, processed, met with, response-defined, pitched, and negotiated. It's an expensive and labor-intensive process.
It may be surprising to hear, but not all leads are worth pursuing—which invites the question of how to treat different leads. We could hire more people to process them, or we could be better at determining which businesses to pursue. If the pipeline is a bit weak, the big question becomes, Should we take on jobs that don't align with our strategy?
We ended up identifying our target buyers, verticals, and budgets very clearly and then eliminating opportunities that did not fit within our model. Working outside our model would result in failure and long-term loss of the client.
Qualifying accounts and leads
Here are a few good questions to use when evaluating a new account and opportunity:
Is this a strategic account with potential to spend at least $1 million a year? In other words, what is the company size—revenue, headcount, assets under management, and the like?
Is the primary decision maker participating in the procurement process?
What industry vertical does the company fall into, and does it align with our expertise?
What is the project scope, and does it align well with our delivery model? Is the prospective client looking for a full product team or just staff augmentation? (We're a full-stack team shop. We're not interested in staff aug engagements.)
Are the budget and schedule defined? Does the budget align with the typical projects we do?
Would a quantifiable value be created for the client were we to complete this project? We want to deliver results.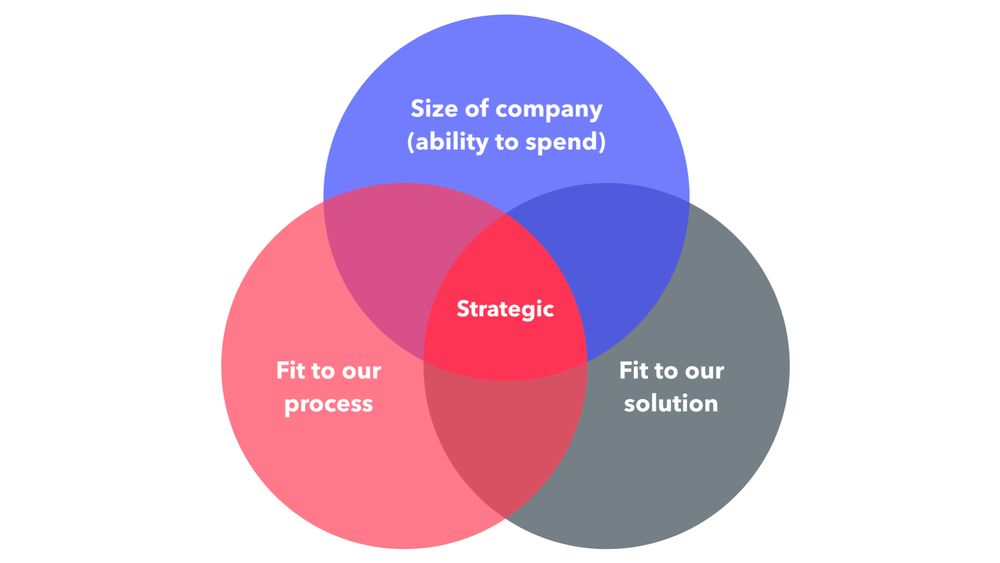 Increasing the probability of winning
Asking these questions at the outset of a new business relationship (and also annually for existing accounts) allows us to very clearly define the alignment between our prospects and our strategy. It also allows us to predict the probability of closing an account.
The better the match, the more energy we invest in an opportunity. For example, any time we have a CIO from a Fortune 1000 company reach out to us, we drop everything and support the sales workflow with designers, engineers, product managers, and senior leadership because we know it's a perfect fit.
To effectively predict the probability of a close, we need to understand whom we sell to, what we're good at, what verticals we have domain knowledge in, and which of the lead's criteria are important for us. And then, we must invest money into supporting the sales process.
We monitor our pipeline in many ways, such as tracking our conversion ratios across stages, activity on our channels, and the number of meetings with a client before closing. The data we collect has led to the realization that a sales cycle of six to twelve months is the average in our industry, and that closing a deal usually takes around eleven touchpoints—each one further increasing the probability of the close.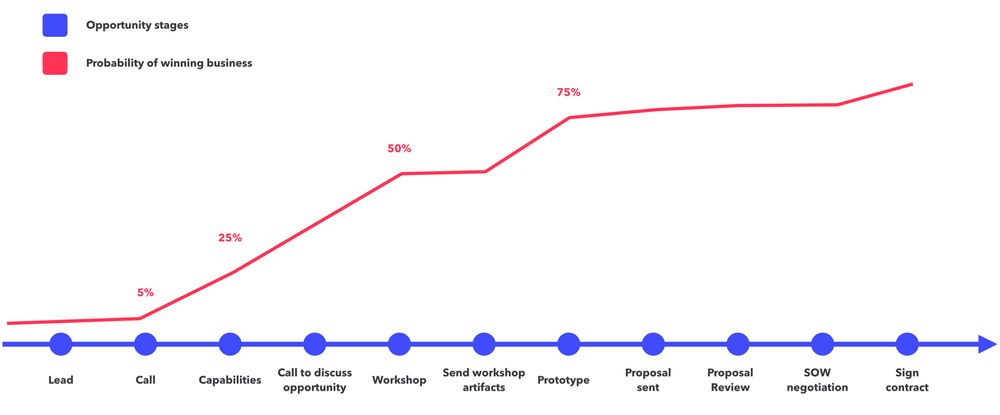 These are our findings:
50 percent of capabilities meetings convert to workshops.
80 percent of workshops convert to contracts.
80 percent of buying decisions are made in the first capabilities meeting—in other words, first impressions create the intent to buy.
Advancing the opportunity for a close
The primary objective of the sales team and the managing director is to nurture the lead to an active client account. Sales owns the early funnel; the managing director owns the capabilities, workshopping, prototyping, and closing.
The likelihood of winning new business drastically increases after the workshop, which makes sense in custom product development. We're only as good as the team that does the work. The workshop allows the client to preview the capabilities of our team and, nine times out of ten, provides the necessary level of trust to proceed to contracting.
Sales and managing directors use a variety of tools to convert capabilities into workshops. One of the most successful strategies I've found is to propose a workshop without a signed contract. I tell clients that we can do some of the most difficult work at no cost to them. Spend time with us for a couple of days, workshop, see what the outcomes are, and only if you're happy with those outcomes will we invoice you for the time spent. This is a bold proposal—essentially giving up the consulting portion of our delivery—yet this strategy accomplishes two things:
It builds trust because we are confident and willing to give up our work if the client is unsatisfied.
It lowers defensive barriers because we do not require commitment before the workshop (often circumventing procurement).
Identifying opportunity risks
I've compiled a short list to help qualify a lead while pursuing an opportunity—noting what aspects lower the probability of a win. While not necessarily deal-breakers, these risks often are the tip of an iceberg, especially if more than one is true.
No clear sponsor. Is the sponsor part of the conversation? Who owns the money? Is the sponsor making the decision on the proposed partnership?
No established funding. Is the budget defined and available?
Services don't match needs. Is the client buying what we're selling? Are they looking for a cross-functional product team or just staff aug? Our value proposition is weak in team-aug scenarios because we do our best work when we can own the product management, design, and engineering.
No experience with Agile. While not critical, the client should at least demonstrate an interest in learning and adopting the methodology. We do not compromise our process; without it, we fail.
Hard to capture value. The proposed solution is a stretch—early start-up, conceptual application, tech prototype without a production application, or the like.
Build what has been designed. The client partnered with a marketing agency and there's a "brilliant idea" that needs to be coded up and taken to market. Waterfall design methodology is the least of the problems here.
Elaborate RFP process required. My favorite: let's put everyone in the same box and then compare rates. This procurement approach makes it really challenging for us to demonstrate our value. As I've said before, we sell by demonstrating expertise in the team, and if the team is not allowed to workshop the stakeholders . . . well, you get the point.
Uncertain of build versus buy. If a whole crowd of solutions already exist in the space, then we probably don't want to enter it. We build competitive advantages for our clients with bespoke software. If off-the-shelf software exists, it's likely not meant to be a competitive differentiator.
Don't automatically disqualify an opportunity based on any of the above risks, but do be mindful and weigh the investment we're making as a team.